16 May 2022
Life as a wild animal veterinary nurse #VNAM2022
My name is Brogan, and I am the Zoo Vet Nurse (Registered Veterinary Nurse RVN) at The Aspinall Foundation, across Howletts and Port Lympne Wild Animal Parks in Kent.
I have been qualified for 6 years, completing an FdSc in Veterinary Nursing Science degree, as well as a BSc in Zoo Biology and a 2 year certificate Advanced Programme of Vet Nursing of Zoo and Exotic species (Avian, Reptile/Amphibians, Small Mammals, Wildlife, Zoo).
I absolutely love my job, as with all veterinary sectors, no two days are the same, but even more so with our wild animals. We can go from a conscious vaccination of a Serval, to anaesthetising a large silverback Gorilla. Working with 3 amazing vets, we care for all our animals from our herd of African elephants to our tiny pied tamarins, treating over 1200 animals of over 120 different species. As well as our animals we have exported back to the wild, in various locations across Africa and Indonesia.
I have many responsibilities in my Zoo vet nurse role, including the nursing care of all our patients, in particular those hospitalised in the vet centre on IVFT, after placing an intravenous cannula. I undertake all anaesthetic monitoring, assist in surgical/medical procedures (inc, diagnostics such as x-rays, ultrasound and blood screening), and administer prescribed medications to inpatients – either intravenously via fluid line, or orally – I find it rewarding to figure out what our clever primates will eat their meds in!
I also take blood samples when required, from our anaesthetised patients, as well as those desensitised to conscious samples such as black rhinos and Malayan tapirs to name a couple.
Other aspects include;
– dental checks on patients
– vaccinating, microchipping, sexing the new babies.
– darting (blow dart/dart gun) vaccinations, contraception, medications (as prescribed by the vets).
– routine parasite checks, running in house bloods, cytology, urinalysis, processing samples to be sent to external labs, and archiving samples to keep.
– maintaining stock/meds, equipment function and infection control in our vet centre.
– maintaining great zookeeper relationships to allow us to work closely together to form the most suitable veterinary care for our animals.
– zookeeper injection training for insulin dependent patients, vaccinations as required.
– training of vet students, and qualified nurses specifically in wild animal veterinary.
– maintaining our animals medical records (inc. notes, vaccinations, anaesthetics, samples/results) on Zims and in our patient files.

All this work keeps us very busy at the veterinary department, and we work very hard alongside our keepers, to maintain the high standard of care we provide to all our animals. I feel very proud to be the vet nurse within such a dedicated team doing such great work!

Brogan Krook BSc Hons FdSc DipVNZS APVN(Zoo) RVN
Registered Veterinary Nurse – The Aspinall Foundation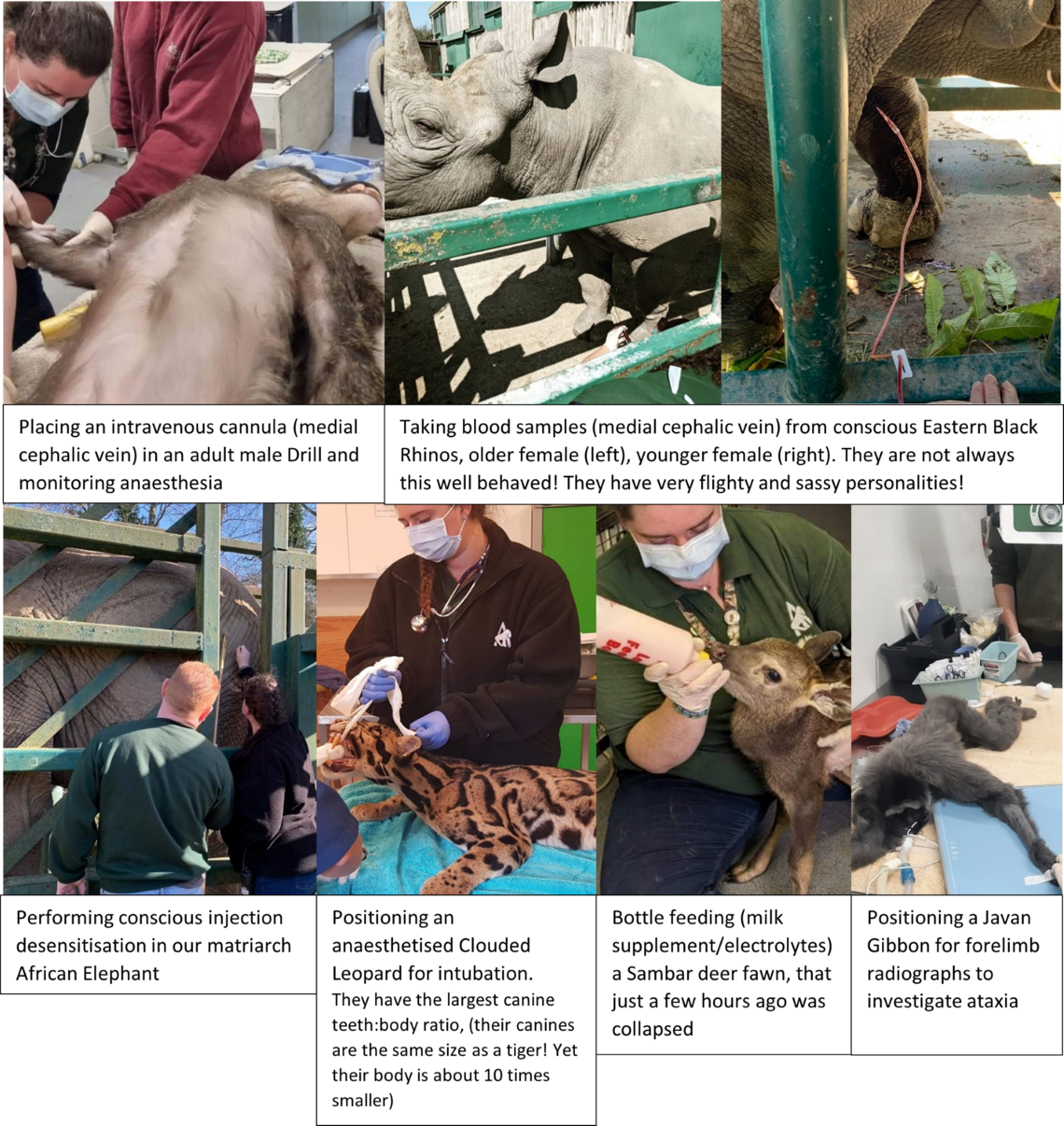 ---