10 May 2022
Life as a Veterinary Nurse in the Army – VNAM 2022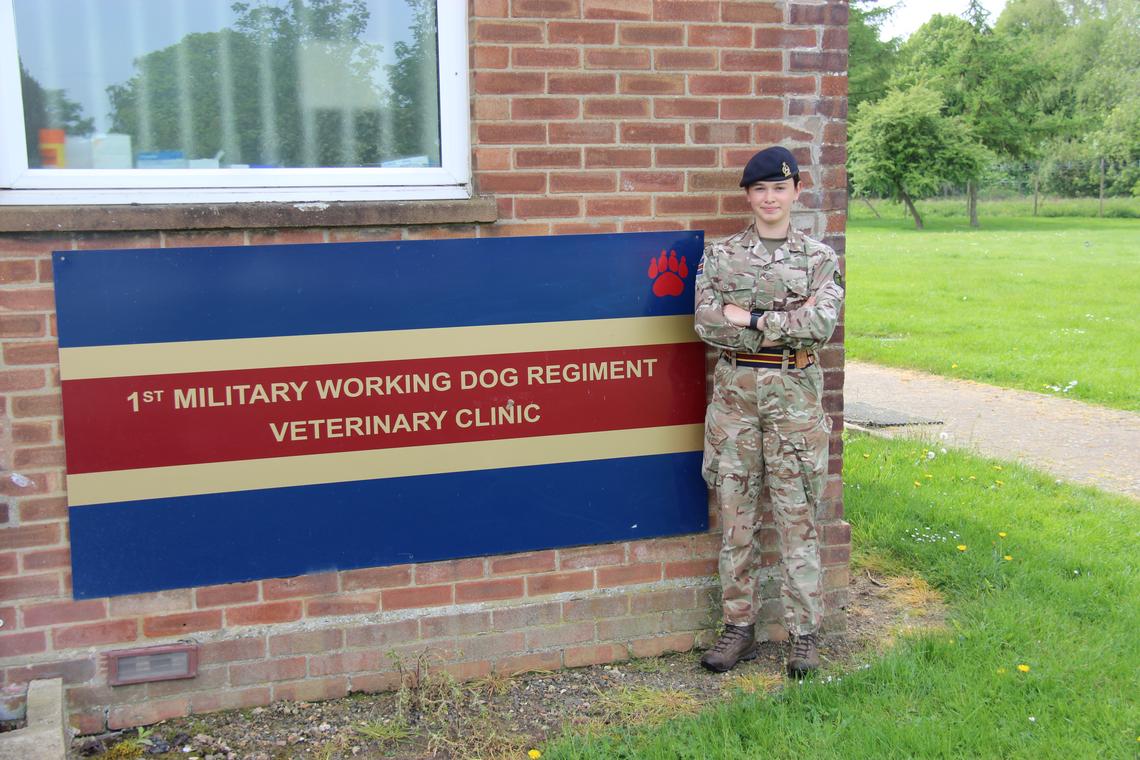 Hi, my name is Lance Corporal Bethan Hire and I'm an RVN in the British Army.
I joined the army in 2019 for a different challenge, to work with military dogs and horses and to be able to travel whilst doing my job. I have been in for nearly 3 years now and I have certainly had those opportunities!
Having applied online, I first completed an initial army assessment at Pirbright. This consists of a fitness test, some teambuilding exercises and some cognitive tests. Once you have passed you are given a date to start Basic Training! My Basic Training lasted 14 weeks, where I learnt soldiering skills such as field craft, skill at arms, fitness training techniques, military awareness, drill and much more. The training weeks are very intense and full on but are enjoyable if you don't mind living and working outdoors, especially in the rain!
I passed out of Basic Training in 2020 and moved onto Initial Trade Training at the Defence Animal Training Regiment in Melton Mowbray. This course qualifies you as a Military Working Dog (MWD) Handler. It is 7 weeks long and you will learn the basic handing and care skills required to work alongside the MWD that you have been teamed up with. This experience is a lot of fun and gives you a better understanding of what the dog handlers do, who you will work closely with throughout your career. This enables you to tailor your nursing plans better around their job once in the military veterinary clinic. After Phase 2, I completed a short Transition to Military Practice course, explaining how an Army veterinary clinic differs to civilian practice and the different requirements we have specific to us.
Once I was fully trained, I was posted to 1st Military Working Dog Regiment in Rutland. We are a small clinic of three vets and five veterinary nurses, with a senior vet and hospital manager, responsible for around 120 military working dogs. Our job role in the clinic is to ensure all the dogs get the best care possible by completing regular dental check-ups, OA checks followed by radiographs if warranted, weight checks, reacting to any emergencies that may happen and providing the dogs' handlers with veterinary training. The dogs we look after are Spaniels, Labradors, Belgian Malinois and German Shepherds. I have gained a soft spot for Belgian Malinois since working here, and they have quickly become my favourite.
Working at the Regiment has been a great start to my career. It has allowed me to be able to deploy on several exercises and has allowed me to develop my teaching skills when giving the dog handlers veterinary lessons. I am in charge of the physiotherapy/strength and conditioning department and work alongside a veterinary physiotherapist to ensure the MWDs who have developed or who are at risk of developing musculo-skeletal conditions receive a detailed rehab plan, which is then followed until their end of service. I am also educating handlers on the importance of strength and conditioning in their dogs due to the nature of their work and how it is important to warm their dogs up as well as cool them down in order to prevent musculo-skeletal injuries from occurring.
I have been lucky enough to deploy on a two-month exercise to Kenya where I oversaw all the veterinary care for the four MWDs we took out there. This was an amazing experience as I had never worked with dogs, especially working dogs, in a hot country before so I had to be aware of any potential heat injuries that may occur as well as looking out for snake bites, cuts and lameness etc. I spent a lot of time organising with the medics how to evacuate a dog off the area if needed to via a helicopter or vehicle as well as teaching the combat medics on the ground about how to treat veterinary conditions.
As an RVN we can be posted to the Army's main veterinary practice at the Defence Animal Training Regiment, where you will work with both dogs and horses. There are also jobs in central London where you will solely be an equine nurse, looking after over 100 horses to make sure they are in a good condition for parades. This job role can be achieved once you have been promoted to the rank of Corporal and is something that I aspire to achieve. I had no previous equine experience before joining, however this was not an issue if you are happy to learn and get involved. I have found equine nursing to be enjoyable and interesting and something that I would like further knowledge and training in, which I didn't necessarily think I would! Once I have a little more military experience, working in the veterinary clinic in Cyprus is also a possibility.