2 August 2021
Caring and Supporting Veterinary Nurses with Chronic Illness Campaign
Chronic illness can be serious and debilitating but affected veterinary nurses should still be given the opportunity to fulfil their role and progress with their career. However, additional support from employers and colleagues may be required and should be given. This means nurses should have a conversation with their employer to help them understand their needs and make any necessary and reasonable adjustments within the workplace. (Acas, 2021)
The BVNA has put together a task and finish group to gather information and create content for a chronic illness campaign, which will run during August and September this year. The group is made of dedicated Council Members, all with their own story to tell. We are hoping that the campaign will help veterinary nurses experiencing the effects of chronic illness to realise that they are not alone, and support is out there. We are also eager for employers and colleagues of nurses with chronic illness to engage with the campaign, as their empathy, compassion, and action is required to support their employees and create a better, more inclusive workforce. Find out more here; Chronic Illness Campaign – British Veterinary Nursing Association.
Meet the task and finish group…

Alexandra Taylor RVN CertSAN ISFM Dip&AdvCertFB
Working in the veterinary profession can be rewarding, but also physically and mentally tough. My own experience of battling with pain and fatigue caused by chronic illness, alongside working long hours, in a physically and emotionally demanding job, has helped me recognise that more understanding and support is needed for veterinary nurses facing similar challenges.
Chronic conditions are defined as 'those which in most cases cannot be cured, only controlled, and are often life-long and limiting in terms of quality of life (NHS Wales, 2021). According to the NHS, 26 million people in the UK suffer from a long-term health conditions, with 10 million people affected by two or more (NHS England, 2014). With the number of Registered Veterinary Nurses documented at 15,782 by the 2018 RCVS facts and figures report, the number of veterinary nurses affected by chronic illness, health conditions or disabilities will be significant.
Those affected by an 'invisible' chronic illness, condition, or disability are often overlooked as needing additional support at work, as they do not look or behave 'sick'. This lack of empathy can leave those affected feeling anxious about not being able to fulfil their job role, frustrated by the lack of understanding and isolated by their peers. The struggle of those with chronic illness, conditions, or disabilities may not be obvious to those around them, but it is there, and it is very real.
Furthermore, the physical and mental effects of chronic illnesses, conditions, and disabilities are vast, causing issues such as chronic pain, fatigue, gastrointestinal upset, gynaecological issues, brain fog, anxiety, depression, mobility problems, headaches, and insomnia. Health conditions such as fibromyalgia, Crohn's disease, multiple sclerosis, endometriosis, chronic fatigue syndrome, diabetes, asthma, rheumatoid arthritis, anxiety, and depression would be considered as invisible. People with hearing, speech, or vision impairments, or those with epilepsy are also classified as having a hidden disability. This may not be obvious to colleagues and employers, which is why education is key.

Charlotte Pace BA (Hons), RVN, VTS (Cardiology)
This is the first time I have ever talked openly about my illness professionally, because I have always felt ashamed to tell anyone the real truth. I have been a veterinary nurse for 20 years now, and mental illness has most definitely crippled my life. Since I can remember, I have struggled with depression and anxiety. Self-loathing, self-doubt, and imposter syndrome are my daily norms. The stigma of my illness is such that it seen as 'I can't cope', and that if I give myself a thought, I am letting the team down. I have used maladaptive behaviours to cope, such as food, alcohol and of course, working even harder to prove my worth. Obviously, none of these things has worked because self-worth and self-acceptance are an inside job. These days, I am trying to learn to accept my illness, and work with it, rather than pretend it does not exist. I am also training to become a counsellor, so I can help others, who find life challenging. I am on medication, have regular counselling and meditate daily. None of these things fix it, but they help me do the job I love. Most of the time.
Jo Hinde RVN

I'm Jo, I'm an RVN and I'm broken – but healing. I've suffered from many chronic conditions in my life that have been both physical and mental including depression, Myalgic Encephalomyelitis, multiple spinal / knee and abdominal surgeries and most recently Sepsis which was my biggest battle to date and nearly took my life 3 times during my stay in hospital. A full recovery is not always possible for many of us therefore it is vital that we receive the support and understanding we need as we try our best to cope. Often, those suffering with chronic conditions have a low opinion of themselves and try harder to be 'better' and this in turn, just makes things worse.
I am so pleased that the BVNA are looking into the best ways to support nurses through all their different hardships and I'm proud to be a part of this project. Getting the right information to the right people at the right time is so important – we need to be open and honest about our struggles and our colleagues also need to know where they can find out more about specific conditions as well as what workplace adaptations may need to be made.
Lyndsay Hughes RVN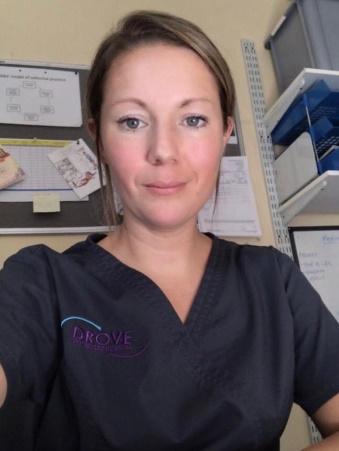 I have previously suffered from a chronic illness and underwent treatment during my time as a student nurse and have suffered ongoing health issues ever since. During this time period I felt unsupported by my employers, where the solution was to stop me from working temporarily and this seriously affected my mental health. I felt set apart from the team, and that 'thing' which I was most passionate about, and was my distraction, was taken away from me. I do not blame my employer, there was not enough information available to them.
I am now in a position as an employer, where I am keen to find a way for two-way communication to be easy. I want someone affected by chronic illness to feel that they can approach an employer without feeling like an inconvenience or judged. As an employer, I do make sure I research, and ask the questions, I want my team to feel that they can always come to me. I don't ever want anyone else to feel like I did. If I can implement this in the practice where I work, then I would love to help others ensure that they are also providing a safe, approachable and supportive environment. It is key that employers are educated to enable veterinary staff with chronic illnesses to feel like they are heard, that they matter and to not feel like a hindrance. This is the reason why I felt so passionate about joining this task and finish group; it really only takes a few small steps to make such a huge difference.
Lacey Pitcher RVN

Why me? Why now? Why not?
These are some of the questions which have driven my tenacity throughout my time in the profession. A profession I adore but one in which I often felt miscommunication or lack of, closed doors to me succeeding. I am Lacey. Veterinary Nurse. Epileptic. Fibro warrior. Dyslexic. Neuro diverse. Human. I am the whole package despite whatever label may be chosen and I am passionate about others never needing to feel as I once did. Misunderstood.
When the task and finish group for chronic illness support was launched, I knew I had to be part of it. My challenges do not define my competency and capabilities but the support and understanding within society does. Now is the time to explore how we can do better. I want to be part of that.
What next?
Over the next two months we will be sharing information and giving guidance on how to support nurses with chronic illness or conditions. We will be looking at how people can seek help from both an employer and employee point of view. There will be a four-page pull-out supplement in a future VNJ with a toolkit to help colleagues. Please read and share and let's make a difference.
During August and September, as well as podcasts, online information, and articles in the VNJ, there is a series of four webinars taking place:
A VN Listening Group – A webinar to share the tools we use to help us live with chronic illness – Tuesday, 10 August 7.30pm
Resilience for life with a chronic illness or condition – Thursday, 19 August 2021 7.30pm
Chronic illness and communicating what you need – Tuesday, 14 September 2021 7.30pm
Chronic Illness, VNs & the Equality Act at Work – Tuesday, 21 September 2021 7.30pm
All webinars are free to attend. They will be recorded and be included in the free Tool Kit on the BVNA website at the end of September.
References:
Health in Wales | Chronic Conditions. Wales.nhs.uk. (2021). Retrieved 22 May 2021, from https://www.wales.nhs.uk/healthtopics/conditions/chronicconditions.
NHS. (2014). Enhancing the quality of life for people with long-term conditions [Ebook] (p. 1). Retrieved 22 May 2021, from https://www.england.nhs.uk/wp-content/uploads/2014/09/ltc-infographic.pdf.
RCVS. (2020). RCVS Facts -Facts and figures from the Royal College of Veterinary Surgeons [Ebook] (p. 7). Retrieved 22 May 2021, from https://www.rcvs.org.uk/news-and-views/publications/rcvs-facts-2018/.
What reasonable adjustments are: Reasonable adjustments – Acas. Acas.org.uk. (2021). Retrieved 17 May 2021, from https://www.acas.org.uk/reasonable-adjustments.