14 March 2022
RCVS Workforce Summit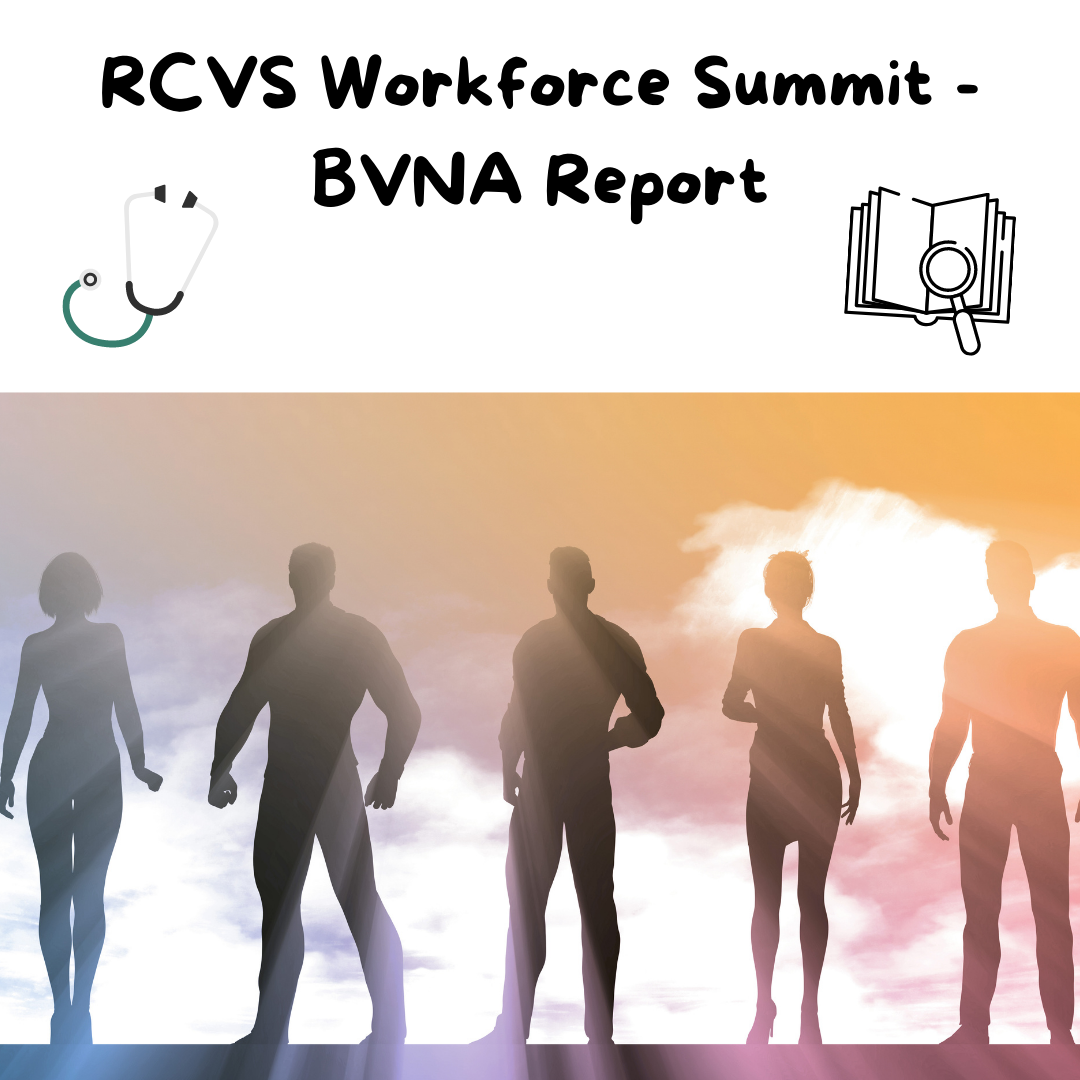 On 30th November 2021, BVNA President Alex Taylor, Senior Vice President Jo Oakden and over 80 stakeholders were invited to the RCVS Workforce Summit in London. The idea behind the summit was for stakeholders to use the 'design thinking' method to help produce solutions to the ongoing challenges facing the veterinary workforce in the UK. This event looked at the entire profession, including areas affecting veterinary nursing.
Pre-summit insight sessions:
Specific areas of concern affecting both vets and vet nurses were identified in a series of online insight sessions prior to the event. These sessions allowed volunteers to express their worries, opinions, and ideas (which were facilitated independently of the RCVS) prior to the event.
The RCVS also used research and data to look at any current developments affecting recruitment, retention and return to work for vets and vet nurses.
Key areas identified during the insight sessions included:
Readiness for work
Work-life balance
Workplace culture
Client interactions
Career development
Return to work
Lack of career progression, concerns over patient safety, long hours, poor salary and moral distress were identified as stressors for veterinary nurses during the insight sessions.
These areas were used as themes for the summit, where participants were split into groups to discuss ideas and look for solutions. Each group consisted of a variety of stakeholders from various backgrounds, including representative bodies (such as the BVNA), universities, charities, major employers, those involved with research and government workers.
Sustainability of the workforce was identified as the key issue, with Brexit, the pandemic and a surge in pet ownership being significant factors affecting the entire profession. It was noted that long working hours, poor work-life balance and stress were associated with both vets and vet nurses leaving the profession. This means that many veterinary professionals are choosing to work part-time to combat these issues, and as a result, the numbers of registered vets and vet nurses available to cover shifts are lower than required.
However, those in attendance agreed that although there were many challenges facing the veterinary profession, they needed to be forward-thinking and look for solutions if they wanted to see change. Teams of stakeholders collaborated and spent time discussing problems, exploring areas, and looking for answers using 'design thinking', which was used to encourage participants to be as open-minded as possible.
So, what did we find?
There were some parallels between what was discussed and recommended in each group, these included:
Frameworks and templates to guide those in practice on how to prioritise their workload and day.
Frameworks for career progression and return to work
More emphasis on non-clinical or soft skills for vets and vet nurses during training, as well as mandatory CPD for qualified vets and vet nurses on communication and leadership skills
More effective delegation within the veterinary team – especially to veterinary nurses
Legislative change is needed to ensure improved career pathways e.g., nurse prescriber role and advanced practitioner status
What has the BVNA done to help address the current workforce issues?
We have been looking at how to encourage children from different backgrounds into veterinary nursing by development of the VN Futures Schools Ambassadors Project, where general practice nursing is strongly represented. The BVNA also works alongside the RCVS on VN Futures, where we look at ways of maximising the vet nurses' potential e.g., Leadership roles and development of the Cert AVN. We have representatives in the RCVS Advanced Practitioner Working Group but are also looking at other ways the GP vet nurse can be championed, and their career pathway further developed. This includes the formation of BVNA learning pathways, a series of bite-sized CPD on popular topics such as anaesthesia and behaviour.
This year's Presidential theme is 'building resilience', so webinars and lectures on what this means to individuals and how they can build on current strengths will be offered throughout the year (especially over VNAM) and also at BVNA Congress. As well as this, the BVNA is working closely with other stakeholders such as RCVS MMI and Vetlife over the coming years to help look after the mental health and wellbeing of veterinary nurses in the UK. We are also currently developing a 'student toolkit', a resource that will provide SVN members with useful information and support during their training.
The BVNA will be running a series of webinars centred around resilience over 2022 and both leadership and resilience streams at BVNA Congress, where insight and training on soft skills such as effective communication and dealing with conflict will be covered. Supporting nurses interested in leadership roles will be explored further over the coming years – so watch this space.
In 2021 the BVNA ran a chronic illness campaign to help support vet nurses affected by chronic illness. The aim was to create a better understanding amongst colleagues and employers to ensure the right support is given in the workplace. This included the development of a chronic illness toolkit, a resource which is freely available for vet nurses suffering with chronic illness, as well as their employers, creating a more supportive and inclusive workplace culture.
BVNA is leading an initiative within VN Futures, which is looking at diversity and accessibility into the profession. The Diversity, Inclusivity and widening participation working group launched at the end of 2021 and has since had 2 meetings. The first campaign will see its launch in June 2022, and it will seek to highlight the role models in our profession. Visibility is crucial to realising our profession is accessible and achievable for all who wish to join it.
Our presidential team and council have had a longstanding involvement in the evolution of the RCVS Legislation Working Party, from its beginnings as the Schedule 3 working party, to the production of a series of recommendations in 2021. There are recommendations within this report that seek to enhance the veterinary nurse's role – particularly in anaesthesia and within schedule 3 delegation. Veterinary nurses are highly trained and skilled, and the recommendations are acknowledging our developing and growing profession. There is also a key recommendation that BVNA will be committed to driving forward – protection of the title 'Veterinary Nurse'. This isn't the limit of the LWP, as there will be further conversations around VN Prescribers and also specialisms. This opens up the opportunities even further within veterinary nurse career development. But it is also important to continue to recognise the crucial role of the GP veterinary nurse.
BVNA have opened up channels of communication with DEFRA and the VMD, who are hugely influential in the legislative changes. We have had some amazing conversations with the chance to share the scope of our profession and the importance of our profession in upholding animal welfare.
BVNA Council members are all veterinary nurses who have entered the profession through many different routes and taken a variety of journeys to reach where they are in their career. This means that they have all experienced the challenges we face and are painfully aware of the difficulties of conversations around veterinary nurse pay. In 2022 BVNA will be creating a 'Pay Toolkit' (similar to the very popular Chronic Illness Toolkit), with a number of resources to help veterinary nurses have conversations around pay and understand all aspects of how pay is calculated. It will also help veterinary nurses to feel more confident about opening up conversations regarding their value as crucial members of the veterinary team.
At BVNA Congress this year we have our new leadership symposium – looking at growing and developing our veterinary nurses in leadership roles, so they are best able to support their teams. As well as this we have our student symposium, providing the next generation of veterinary nurses with the right tools to have a sustainable career in this profession right from the start. We are investing in and representing the veterinary nursing profession in many areas so that the voice of veterinary nurses is heard and understood.