30 June 2022
DIWP Role Models: Neyda Sousa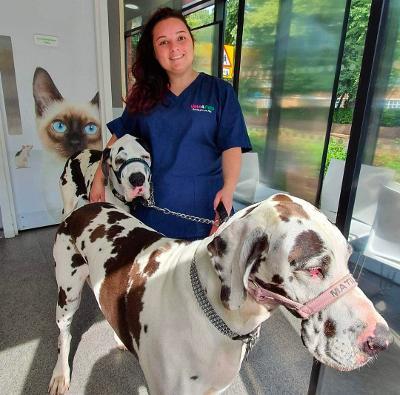 Let's talk about why diversity is so important. In my case diversity allowed for me to understand and learn about other cultures, and I also shared my culture with others. This can sometimes be very fun and interesting, but it can also come with its challenges.
Hola me llamo Neyda, e esta é a minha história. (Hi, my name is Neyda, and this is my history)
I was born in Venezuela 🇻🇪 and I am also Portuguese 🇵🇹. My first language is Spanish, and I also speak and write fluently in Portuguese and English.
I moved from Venezuela to Madeira, and then I moved from Madeira to England, to pursue my dream career as an RVN.
This came with its challenges as I had to move from one country to another not once but twice, to learn new languages and new cultures.
I started my animal management level 3 diploma in 2014/2015 for 2 years. Here is where I started to get out of my comfort zone. During those 2 years I challenged myself and worked hard at college as this was my first ever full-time course in the UK 🇬🇧. Finally, I finished my course with D*D*D* and I couldn't be any more proud or happier. My hard work had paid off and on top I had made many new friends and developed my English speaking and writing.
I had 1 year out of college where I was on the hunt to find an apprenticeship for my level 3 veterinary nursing diploma. I volunteered and worked hard to secure a position to start my course and I couldn't wait.
Once I finally started my SVN course I didn't know all the many challenges that I would have to face. These included being the only student in my group who was not English first language, extreme overload of course work including assignments and exams which I was not ready for what I signed up for. On top of my struggles at college I also had struggles at work and about my own confidence when it came to perform some tasks.
I worked hard, very hard at college, at home and at work, to prove to myself that I did deserve to do well on the course, to prove to others that doubted me and my skills, that I was going to be successful, and I was going to achieve my dream goal. It wasn't easy as sometimes, I felt it was all a bit too overwhelming at times. Also being mature student, came with adulthood challenges. I sometimes felt unsupported, but other time I felt included, valued, and supported by my family, by my peers, by work and by all the lovely tutors that helped me through my journey.
Today I can say, I finally achieved my dream of becoming an RVN as I qualified in December 2021 and I feel ever so proud, words cannot describe the feeling of accomplishment. I will soon be attending to my qualification ceremony in July, and I can't wait for it. I have learnt so much and I have also taught so much from the experience that i have gained through my career journey. Life is a journey make every-day count.
To me diversity provides a wide range of benefits such as creativity and innovation within the veterinary team from different life experiences and backgrounds.
It also allows for personal and professional growth within the veterinary team, and this can create better opportunities for future development. Having diversity within our field is crucial to help us educate and support one another.