13 June 2022
DIWP Role Models: Joshua Sancho SVN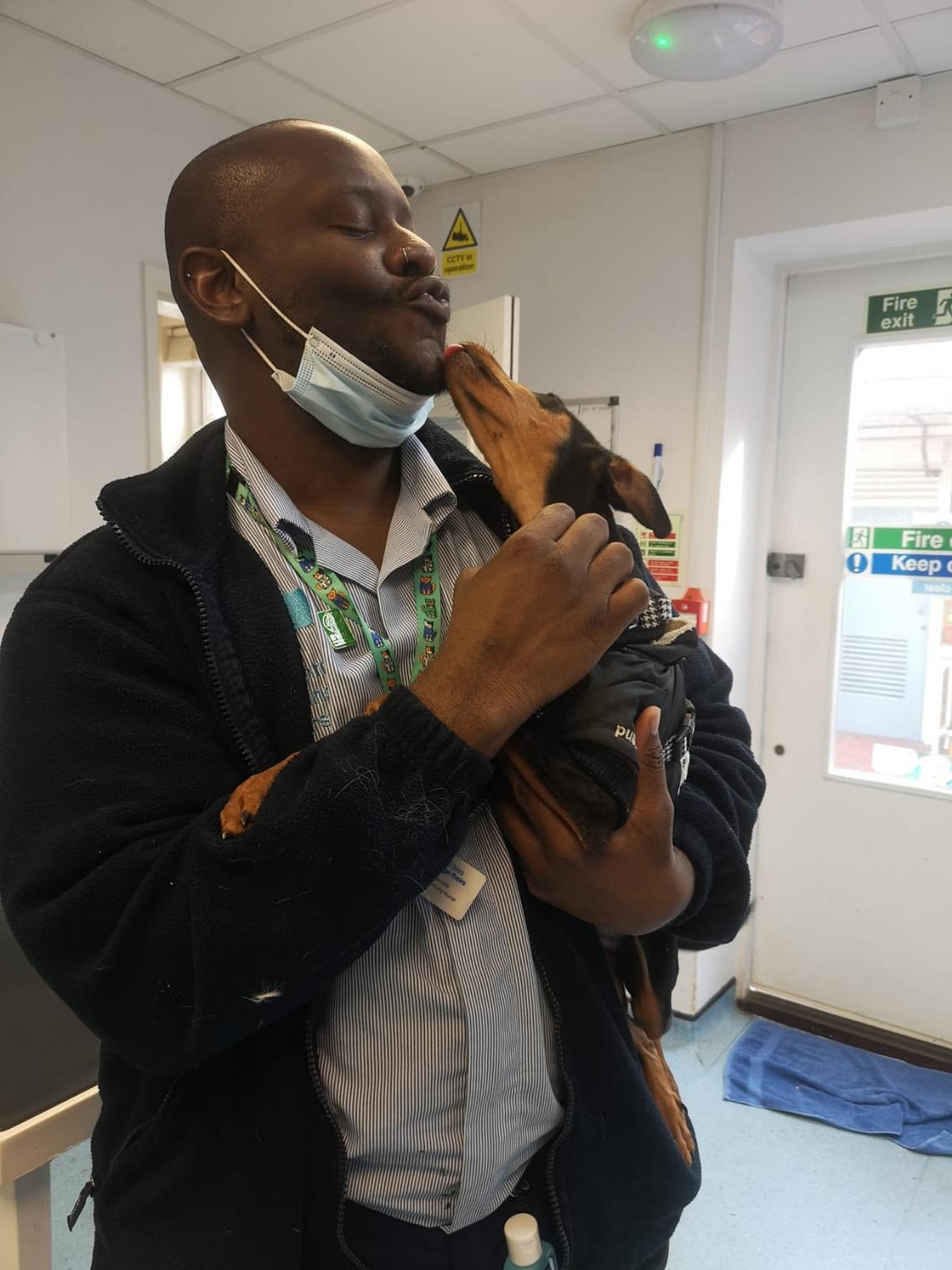 BVNA's President interviews role model Joshua Sancho SVN about his journey so far;
1. How long have you been working in the veterinary industry and where did your veterinary nursing journey begin?
I have been working in the veterinary industry for about 3 years now. I started working in 2019 and at that time my role was known as a Pet Health Advisor (PHA). It was a really nice mix of front of house duties such as reception and admin tasks, working around the hospital in clinic and or kennels, working closely with the many animals that we would see, and supporting the vets and nurses. I had a keen interest in theatre work and learning about anaesthetics, as well as getting involved with the many procedures we would see. What sparked my interest into veterinary nursing the desire to be even more hands on and knowledgeable, so that I could support my team better and also have a greater measure of care for the animals that we would see. So, I decided to go for a position as a student veterinary nurse.
2. Can you tell us a bit about what you have achieved so far in your career as a veterinary nurse, or how other non-veterinary/clinical roles have given you transferable skills to use in your current role?
I found that my role as a PHA, really helped me with learning how to effectively communicate with clients and to navigate uncomfortable situations and conversations. This has made my nursing journey so much more rewarding, and I find that because of this, I have been able to develop a real love of consulting. This would be my greatest achievement so far; I enjoy meeting new pet owners, and our regular clients alike. I love discussing animal care and preventative treatments and I am passionate about getting our clients to be even more creative and empowered with their pet's care. I love seeing a nervous owner become more confident in what they are doing, when they are given the tools to support their pet.
3. What are you hoping to achieve over the next few years and why?
As a student veterinary nurse, I'm hoping to firstly pass, and also finish a behavioural diploma that I am doing on the side as well. Hopefully I can then marry up these two skills and become an effective nurse helping to support our clients with behavioural challenges with their pets. I have a keen interest in small furries such as rabbit, ferret, and guinea pig Behavior. I would also love to get involved in wildlife vet nursing too, but one step at a time!
4. If you had to choose three words to describe you in your role as a veterinary nurse, what would they be?
Compassionate, encouraging, energetic.
5. Who has been a role model for you and why? What impact did they have on you?
This is a hard question, as so many people have really helped me on this journey, and I know I wouldn't be here without them. But if I had to say one it would be my nurse manager, Dominique. She is an all-round amazing and intelligent woman and has been a really great encouragement to me. Her positive nature, as well as her continued passion for animal care and medicine has helped me develop a desire to be the very best veterinary nurse I can be.
6. If you had to pick one thing that you love most about veterinary nursing, what would it be and why?
I love seeing a pet's journey with us; right from when they arrive at the hospital, (whether they have a mild or serious health condition), till when they are discharged. These patient journey bring me the most satisfaction. Knowing that I was privileged enough to be part of caring for that pet and then watching that pet leave our practice with another opportunity to live life to the fullest means a lot to me.
7. What do you find most challenging about working as a veterinary nurse and why?
One of my biggest challenges In veterinary nursing (as an SVN) is feeling as if I am not good enough; In an environment where being knowledgeable and making quick and decisive decisions are needed, I don't always feel as if I am there yet and that sometimes makes me a little apprehensive about what I do. However, I have to combat that and remind myself that 1) I am still very new at this, 2) I am learning all the time and that 3) I have a great group of people around me who I can always depend on for advice and support.
8. Why do you think practice culture is important?
I think practice culture is a topic we do not always get the opportunity to talk about but has a huge impact on our everyday lives. We spend a lot of time at work, and where you work effects your physical, mental, and emotional state. Having a practice that is grounded in embracing and encouraging team members to have a healthy work/ life balance is key. Having a practice that encourages and embraces change is important for growth as a team. Additionally, a practice that seeks to build team morale, fosters positive working conditions, and encourages mental health and wellness ensures that the culture of the practice not only is a positive one, but also that the core values are followed. This is important because if teams believe in the culture of their practice, they will naturally exude the practices beliefs and core values. It is very cyclic.
9. Why do you think diversity, inclusivity and widening participation are so important in the veterinary profession? How might a lack of this hold us back and why should we be embracing it?
I am a very big advocate of diversity, inclusivity and widening participation, (DIWP)and this is because I think representation is so important within the veterinary field. When you see someone who looks like you in a job role/ position that you would like to go into, it encourages you to think and believe that it is possible for you to get to there, be now or someday. Veterinary Nursing isn't just limited to one type of person, people from all different backgrounds can do it. As the times are changing, we are seeing a greater push (and need) for DIWP within the veterinary industry, and this should be encouraged. When we embrace It, we learn from others' experiences and knowledge. We can also glean from their skills too, which helps to embed an ethos that: you are valued, you are being supported and more importantly, you are being heard. The Veterinary profession should continue to embrace DIWP, as this would have a significant impact on how they engage with members of the public and their pets, and also the veterinary profession across the board should reflect the diversity of people (who's pets) they are helping.
10. What one piece of advice would you give to someone that was considering a career in veterinary nursing or to someone just starting in the profession?
I'd encourage them to learn to have a healthy work and life balance, but also to ensure that they prioritise time management. Depending on what route you go down, whether it's the diploma or the bachelor's degree there is a lot of studying involved, as well as lots of practical, on-hand experience and learning. Time management is important so that you don't miss deadlines or important dates. Veterinary nursing is such an incredible career choice and opens up so many doors, but to get those three letters after your name, there is a lot of work that has to go into it. (I haven't reached there yet!). But the hard work will certainly pay off in the end, like when you get to nurse a sick pet back to life or you encourage a nervous owner to become more confident in caring for their pet. I'm extremely grateful that I am slowly but surely living my dreams.