10 June 2022
DIWP Role Models: Jenna Joshi RVN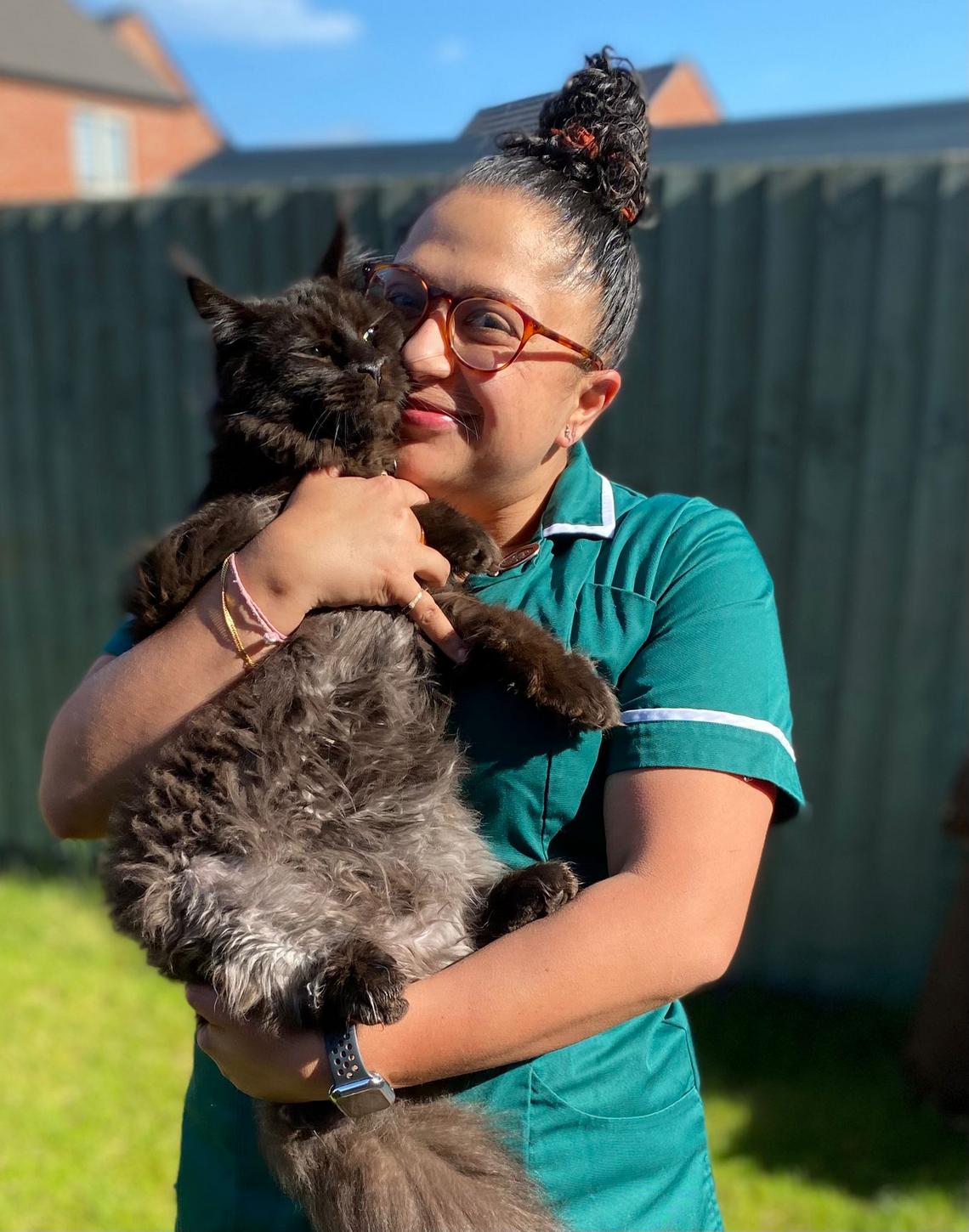 Role model Jenna Joshi shares her journey through her veterinary life focusing on being from an ethnic background;
I grew up in West London, in a mixed family; my mum was born in Essex and lived a very 'sheltered' childhood not really exposed and around anyone of ethnic background. My dad from Indian descent moved to the UK from Kenya when he was only 2 years old so doesn't remember his life there, so the UK is the only home he knows. My paternal grandparents moved to Ealing when my dad was in his teens after living in Leicester which was a very Asian populated area especially in the 80s. My parents met and got married – having both a traditional Christian church wedding and then a crazy traditional Indian wedding. My dad did face a lot of discrimination and racism growing up, so when I was young, I was exposed to stories of my dad's experiences. These experiences made me aware of racism, and made me think 'oh yes, a lot of us are different in our own ways, but that's cool. But to also be mindful that some individuals may not accept you' – and this is as a 8 year old child.
Why should this be something that should be taught to children, why are we living in a world that your parents must warn you of this! Luckily, I have never experienced any sort of racism or discrimination, but I still have this at the back of my mind.
I was brought up learning and practicing both Christianity and Hinduism and wasn't pushed in either direction, this allowed me to broaden my knowledge which I don't think I would have been able to do if I was born in a single ethnic home. It wasn't until I started university that I solidified my faith in Christianity and joined the Christian union and made lifelong friends.
The schools I went to were mixed with loads of students from different backgrounds, which is so good to see when growing up as I feel you don't tend to notice any difference, as this is all you know.
My family home had always been filled with animals; be that cats, dogs and small furries. From a young age my parents saw the love I had for animals so always encouraged me to follow my passion. So that neutrally drew me to a career in veterinary nursing. I started off volunteering at my local RSPCA cat sanctuary, which was a dream – who wouldn't want to play with cats all day! I then started working at my local veterinary practice after school who then in turn accepted me as a student when I enrolled in university.
When I left West London to go to a rural university like Harper Adams in Shropshire, oh my that was a culture shock – or 'lack of culture shock!'
I went to Harper to study BSc Veterinary Nursing, as I walked in to my first day all I could see were white people. This was very new to me; I had never been in a position like this before! I knew that it would be either a sink or swim situation, will this bog me down or shall I embrace this and teach the individuals that I encounter about my background. So, after my four years in university, I made a lot of friends and only two of them from ethnic backgrounds, probably the only two I could find throughout my university life, how crazy is that.
During my placement in Ealing, I was surrounded by nurses and vets from loads of different backgrounds, this was very refreshing. In my first job after qualifying, I started at a big hospital in West London – still being in London I found that there was a great mix of people.
At the hospital, I secured my love for surgical and anaesthesia nursing, I worked closely with surgeons specialising in soft tissue, orthopaedics and ophthalmology. Most of my shifts involved being in theatre, and then my non theatre days would be in an idyllic cat ward with classical music playing. These are my two loves within the profession: cat friendly nursing and theatre, what a world apart! I also became a clinical supervisor which I loved, I love teaching people especially in areas I'm passionate about, I feel that sharing the knowledge that we have is the most important thing.
My next job I moved to Warwickshire, very similar situation like to when I walked into university on that first day, I felt the same, I thought sink or swim. As I made friends within the group and my colleagues became comfortable and started chatting freely, my background came out. Mainly just asking questions, if anyone were in this same situation take the questions and educate and share your experiences. When talking to others its mainly because they haven't been exposed to other traditions and cultures, this is something that I would urge everyone to explore, be that going on holiday to places and to learn about the history or just asking your colleagues about their culture.
I had never thought my religion would a point of discussion at work, but I have found that this is also something that should be openly expressed and talked about, why are we so secretive about this? Those that know me know I openly talk about my faith and if not, the conversation about my car bumper stickers normally come up – they read 'do you follow Jesus this close' and 'honk if you love Jesus'.
At my current position I have completed a certificate in Anaesthesia with Improve international and I am currently doing my Emergency and Critical Care certificate. I love learning so this career is great for that as there is always something to learn, next on this list would be an IFSM cat friendly nursing certificate. But maybe I should concentrate on what I'm doing now before thinking about what is next on the list! I feel that this constant drive to learn is something that was instilled in me as I was growing up and being taught that knowledge is key to success – is that an Indian thing? I don't know, but all I know is that I want to succeed in my role as an RVN and be the best advocate for my patients that I can be.
I feel blessed that I have never had a negative experience while working within the veterinary profession, it's probably because I feel that it's my responsibility to educate others if they ask, and I take their asking as curiosity!
There is no excuse for racism but there is an excuse for not being informed, so get out there ask questions and learn! I hope my positive experience of diversity within the profession will help others from 'ethnic' backgrounds to join the career and not be put off, and to embrace your background.