15 June 2022
DIWP Role Models: Ipek Seyis RVN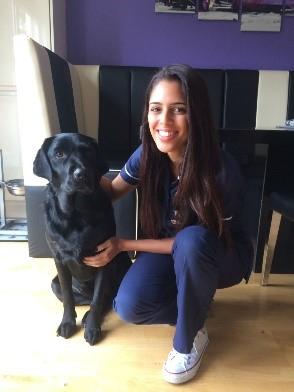 Role model Ipek Seyis discusses what a veterinary nurse is and what that means to her;
What is a Veterinary Nurse?
"Veterinary nursing is the supportive care of animals receiving treatment within a veterinary practice. A veterinary nurse works as a member of the veterinary team, providing expert nursing care for sick animals" – RCVS
Discovering Vet Nursing
I was born and bred in East London with a Turkish Cypriot background. No one in my family had ever ventured in to the animal profession so I had no exposure to it. The closest I had got to working with animals was seeing my uncle on his farm in Cyprus, when we would go on holidays as a child. I was unaware of Veterinary Nursing, and what they did, and it was not something bought to our attention in schools or on career days.
Walking towards my retail job in the shopping centre, I saw Guide Dogs were looking for puppy walking volunteers, so I signed myself up and got accepted, leaving me to train up beautiful Jinny. She unfortunately ended up failing as she was very sensitive, however I was asked if I wanted to keep her to which I willingly obliged!
(Jinny at 8 weeks)
I was desperate to do something animal related, and this opened up my sights to the profession when I would take her to the vet for her health checks. I took the opportunity to look at what vacancies my local vets would have, and I came across branches looking for vet care assistants.
Interviews
I had no prior experience or training and I sent through emails and posted my CV and cover letter to all the branches in and around London, hoping that someone would give me a chance. Out of over 80+ clinics, I heard back from two and there was the first hurdle completed!
I remember being incredibly nervous for the interviews, I had nothing but passion for the role to bring to the table, and I had to make sure it showed. I wore a blouse with black silhouettes of running horses all over it (just to really prove I loved animals) and tried to revise the job specification as much as I could.
My first interview was with an exotics vet, the interview didn't last long at all and it was a no, which knocked my confidence. In hindsight I wish I would have asked for feedback!
I then had an interview with an independent practice, within a first opinion branch. This interview went very well and I was invited back for a working interview in one of their branches!
Within days I had found out they liked me and I got the job. I was ecstatic, I may have shed some tears, and I had finally got my foot in the door.
My journey to becoming an RVN
They don't lie when they tell you its almost like learning another language, being in this profession. The company's nursing college started me on modules to learn from e.g. an introduction to client/patient care, health and safety & pharmaceuticals, to prepare me for my Veterinary Care Assistant course. After waiting a year, I was placed on the course and became a proud VCA.
I then waited another year until I was entered on to the Veterinary Nursing diploma course. There was another student nurse on the course and so I had to wait for her to finish as we could only have one trainee in branch at that time. I also had to complete my Maths and English functional skills as my GCSE's were out of date (when over 5 years).
I was finally in my stripes and so proud.
Getting through the course was tough, as everyone who has been through it warns you. It is 3 years of assignments, exams and CSL/NPL, which are case study logs that you get from working in a branch/hospital to prove your competence in the practical side of nursing. Then the final hurdle being the OSCE exams. This is where you get to show off the skills you have learnt in front of an examiner, ensuring all steps are covered and hope to pass all the tasks that have been chosen for you. I passed most of my written exams first time, but had to retake an exam 3 times. I was ready to give up the third time as I was so sure I had passed my second try and ended up failing by one mark. It was devastating. With the will, positivity and support from my tutors I passed and then went on to pass my OSCE's with flying colours!
Receiving the phone call to say I am on my way to becoming a registered, qualified veterinary nurse is a feeling of true elation, relief and pride.
After qualification
I remained in the same branch all the way through, and had got to know our clients and patients very well. I was glad that I could build up my confidence as an RVN somewhere familiar and with people I knew. I was officially in my green uniform with a fancy new badge from the RCVS.
Just under a year in to qualification, our head nurse resigned and I was approached to take on the role. Having been in branch for so long and knowing it like the back of my hand, I stepped up to the mark. I was very nervous, suddenly having much more responsibility as well as having students of my own! I had never been in a role of leadership so this was certainly a change, but one that I was excited for. I had additional responsibilities such as diary organization, running of the day and the team rota. I also did the admin side of things such as going through memos, emails, debts and putting through insurance claims.
After a year of head nursing, I went on to maternity leave for 8 months and during this time, I ended up contracting bacterial meningitis. I wasn't fit to return to work physically for a while and was offered a position to work from home.
Luckily after a few months I was signed off by my neurologist and happy to get back into it. I returned to work slowly, a day or two a week to get myself back in to it.
Since contracting meningitis, I developed an interest in neurology, and nursing these patients. I decided to apply for the position 'neurology nurse' at a referral hospital that had come up, thinking nothing of it as I had little experience in this field and had always been in a first opinion practice.
Somehow, I made it through to the interview stage, then the working interview stage, and I got the job! My enthusiasm and genuine interest in the role seemed to have prevailed again. More tears and further elation.
As I prepare to start my new role, I am filled with what they call 'imposter syndrome' but after 9 and a half years in the profession, I know that I am capable and see it as another adventure with more knowledge and experience to be gained.
Having been in practice for almost a decade, I have found that offering to help voluntarily or as work experience really does get your foot in the door, especially when you leave a good impression. This can be in a branch setting, or a charity/rescue centre. The people that have stood out the most and we have taken on have had bundles of enthusiasm, initiative and interest and go on to make great nurses. No matter your background or experience, as long as you have a passion for what you do, it will show, and you will achieve your goals!